2015 Pike County Female Youth of the Year!
Amber S.  was awarded the 2015 Pike County Female Youth of the Year award. Per proud Mom Sharon S. :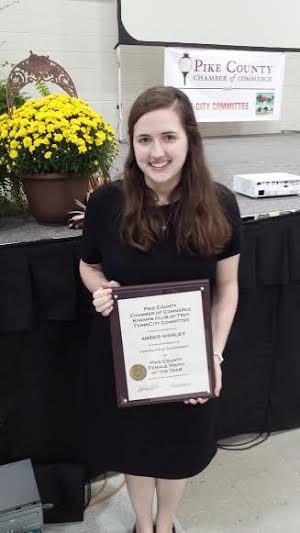 In spite of our family frequently moving due to my husband's job, Amber has not let that stop her from jumping in and contributing to her community.  Our family's motto is "Bloom where you are planted"; she has sought to accomplish that wherever she resides.  

She has been heavily involved in 4-H for a number of years, winning numerous awards at the club, county and district levels; she currently serves on the Pike County Youth Advisory Council and is president of the 4-H Explorers Club.  She is a member of National Beta Club, National Society of High School Scholars and Epsilon Tau Alpha High School Honor Society.  

Being homeschooled gave Amber time to pursue her passion–music.  She is currently serving as church pianist along with accompanying the children's choir for their musical presentations.  

She volunteers at a local assisted living in their Memory Care unit and can be seen as a re-enactor at the Pike Pioneer Museum of Alabama during their special events.

Her hobbies, along with her passion for musical performance, include serving in her community, sewing, crocheting and knitting. 

Amber's future plans include attending Huntingdon College, majoring in Biochemistry and minoring in Music Education.  Her ultimate goal is to attend Medical School with an emphasis in Rural Health Care.  She wishes to serve as a Physician in one of Alabama's rural areas.